We cannot control the ads from this video player because it is 3rd party service.
Just skip the popup ads and continue to watch. Choose your best working server.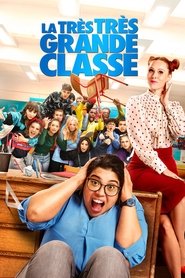 Two Much for the Job
After five years enduring horrible work conditions, Sophia finally gets chosen for a long-awaited transfer from her thankless teaching job at a rough middle school. Ecstatic to start a new life teaching at the French Lycée in Barcelona, her hopes are dashed to bits when a well- connected, over-qualified teacher at an upscale Paris school cuts in to take the position. Determined to stand her ground, Sophia and her clever neighbour Mr. Picard join forces to sabotage her competitor's candidacy.
Views: 95
Genre: Comedy
Director: Frédéric Quiring
Actors: Abel Aboualiten, Arié Elmaleh, Audrey Fleurot, François Berléand, Jacqueline Corado, Kenza Benbouchta, Melha Bedia, Nissim Renard, Tiguidanké Diallo, Vincent Lecuyer
Country: France, Belgium
Duration: 100
Quality: HD
Release: 2022